Cobra PRIDE * We Believe!
Upcoming Test dates for Hudson students. Discovery Education 2/26-3/4. Pert will be held 3/10-13. FCAT tests will be held in April. This information will be updated often. Approximate dates are listed on the school calendar as well.
Hudson Treasures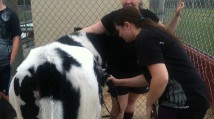 Hands on experience and deep content knowledge provide students with a successful ...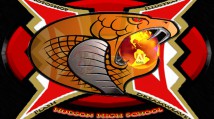 Today's graphic design specialists must be able to keep up with the ...
Offering 4 levels of Drama courses and 3 of Acting, Hudson offers ...
Please visit http://connectplus.pasco.k12.fl.us/hhs/band/ Under Construction! Check Back Soon! In the News: High ...
There will be a career fair for ALL AGES at the Verizon Event Center in New Port Richey, FL on Thursday, April 10th from 5:00-9:00 PM.

This year, our students from levels 2, 4 and AP competed with nearly fifty other Florida schools in the discurso event, a two-minute impromptu speech in Spanish on a given topic in front of two judges. All of our students worked incredibly hard to prepare for this conference. Señora Espinosa and Sr. Lewis are so proud of […]

Congratulations to Will Watson and Madison Ohling, Class of 2014 Prom King and Queen, announced this past weekend at the Enchanted Evening Prom.

Congratulations to Chad Batdorf, Class of 2014 Valedictorian; Nathan Binder, Class of 2014 Salutatorian; and Gary Peterson, Outstanding Senior. Wishing you continued success in all you do!

Article and video posted at: http://www.abcactionnews.com/news/region-pasco/hudson/bay-area-school-making-the-grade-in-and-out-of-the-classroom The faculty and staff at Hudson High School are teaching more than math and history.  They are writing the handbook in lessons of love, generosity and hope. Those lessons for the students, but some the community can learn from as well. Of the 1,240 students on campus, 70-percent of them […]