Cobra PRIDE * We Believe!
Course Selections will take place March 10th-13th. There will be a special Kick-Off Pep Rally for 8th graders hosted at HHS on Thursday, March 6th. Hudson will also host a Curriculum Parent Night the evening of March 6th from 6:00-7:30.
Hudson Treasures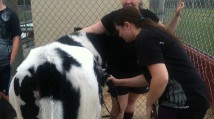 Hands on experience and deep content knowledge provide students with a successful ...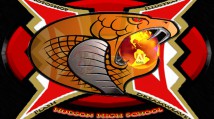 Today's graphic design specialists must be able to keep up with the ...
Offering 4 levels of Drama courses and 3 of Acting, Hudson offers ...
Please visit http://connectplus.pasco.k12.fl.us/hhs/band/ Under Construction! Check Back Soon! In the News: High ...
All year students have been asking me, "When are we ever going to need this?" Well, this is one aspect of geometry that is actually good for something…imagine that! Students used a clinometer to measure the angle of an incline of an object.  Then they used trigonometric ratios to calculate the height of the object.  Students had […]
January 31 is the last day for students  to purchase a yearbook at the discounted price of $60.  The price will increase to $70 on February 1. Students who order after January 31 will also not be able to purchase cover personalization. Please go to www.jostensyearbooks.com or bring money to Mr. Poindexter in room 204 […]
Congratulations to Marisa Maksymkow and Chad Batdorf who have been selected for the ELKS Student of the Month for January.

As printed in http://suncoastnews.com/su/list/news-pasco/high-school-jazz-band-livens-a-hospitals-mood-20131227/ Published: December 27, 2013   |   Updated: December 27, 2013 at 08:57 AM HUDSON — The Hudson High School Jazz Band livened up Regional Medical Center Bayonet Point's2013 "Holiday Dessert Party" with some live music. "We were tryng to add to the festive mood there," said Kurt Conover, the hospital's marketing director. "We try […]
Our ESE Basketball teams played a weekend in January at Wesley Chapel High School.  We are pleased to announce that the Cobra team took first place and the Strikers took fifth place.  They each played awesome games. They were very tired after playing back to back games.  The Cobra teal will go in February to […]