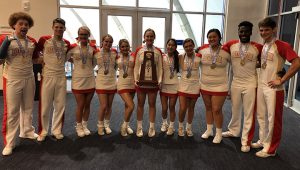 Hello Everyone!
Last night our cheerleading team performed a perfect routine and won the 1A small coed state title! Hudson High School has never won a team state title before for any sport so we are very excited to be the first! 
Thank you so much to all of the teachers and administrators who have been supporting my cheerleaders all season! You guys have no idea how much of an impact your presence and support means to this group of kids! They perform better in the classroom when they have your support outside of the classroom. On another super exciting note, our unweighted team GPA is above a 3.0!!! This qualifies us for special academic recognition from the state, last time I checked we are the only Title I school to qualify for this. So thank you all so much!
Special shout out to Coach Heise who has been so supportive in changing and improving the culture of not only the cheerleading program but athletics as a whole. You really are making a difference holding these kids more accountable and it has made a difference for our program for sure and I am forever grateful. Pingley, thank you so much for making the drive up to see the kids yesterday. They couldn't believe you went out of your way to come watch them, for our kids feeling that love makes such an impact. 
We did it y'all! Thanks for everything!
Chelsea Hatcher
Hudson High School
A.P. U.S. Government and Politics